Art & Medicine
5 juni 2019
15:00 - 17:00
Grote Zaal, Muntstraat 2a, Utrecht, FOLLOWED BY DRINKS
Public lecture 'The Art of Performing Science' by Roger and Dusia Kneebone
In this session Roger and Dusia Kneebone draw on a body of work over several years in which we have brought expert clinicians, scientists, artists and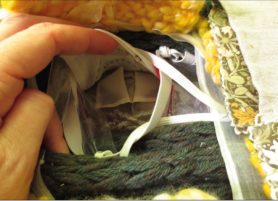 performers together to explore the wordless 'ways of doing' which characterize their work. By demonstrating selected aspects of their work to one another, participants share understandings that elude verbal description. After outlining the issues we will present examples of ongoing and future collaborative work carried out by colleagues in medicine and the arts. The session will then move to an interactive conversation based on Dusia's experience of moving from geology to art history and then hat-making, before concluding with a broader discussion with the audience.  Please find a couple of recent papers which give some background HERE and HERE.
---
Roger L. Kneebone is Professor of Surgical Education and Engagement Science at the Imperial College London Wellcome Trust Engagement Fellow.
 Roger is a clinician and educationalist whose multidisciplinary research builds on his experience in surgery and general practice and his interests and expertise beyond medicine. He is passionate about engagement in bridging the worlds of clinical practice, biomedical science, patients and society. He leads the Imperial College Centre for Engagement and Simulation Science and the Royal College of Music-Imperial Centre for Performance Science and is Professor of Anatomy at the Royal Academy of Arts.
 Dusia Kneebone's career has ranged across science, art history and making. Following her undergraduate studies and an MSc in marine geology, Dusia spent several years researching the paleo-environment of coal deposition in the UK and overseas. After a career break to raise two daughters, Dusia changed direction and became an art historian. In her MA at Birkbeck, her research focused on a group of little-known paintings of a First World War field hospital on the Western Front by the French artist Victor Tardieu.
 Dusia and her husband Roger have collaborated for many years on the simulation-related engagement work which he has pioneered at Imperial College London, integrating perspectives from clinical practice, science, art, craft and performance. She participates in exploratory work with the Art Workers Guild, the V&A Museum and the City & Guilds of London Art School.