Art & Medicine
Report Workshop Art & Medicine: Skilling the Senses
From the third to the sixth of June Utrecht University and University Medical Centre Utrecht were home to the UMake-workshop Art and Medicine: Skilling the Senses, with special guest Roger Kneebone, Professor of Surgical Education and Engagement Science at Imperial College London. During the workshop, the participants from diverse backgrounds investigated the role of the senses in the transmission of knowledge through a series of interdisciplinary workshops, ranging from a museum visit and modeling workshop to drawing assignments and watching films.
---
Monday, June 3d
On the first day of the workshops, the participants were invited to the Kunstlab of the University of Utrecht. After a warm welcome by Sven Dupré and Maaike Bleeker, the first presentation of the week was given by Manon Perry from Vrije Universiteit Amsterdam. Professor Parry spoke about the courses she teaches as Professor of Medical History, and one of the courses which she is currently redesigning which centers on 'difficult objects': objects that were used oppressively, evoke for fear or disgust. Consequently, these objects are seldom found on display in public museums. However, they can be seen on display at the anatomy museum Museum Bleulandinum, which was the second location of the day. At the museum, dr. Marieke Hendriksen gave a tour that focused especially on the wax models, which historically have played an important role in medical research and teaching. After the tour, the participants were given the chance to explore such models with other senses, too, by experimenting with wax back at the Kunstlab. After attempting to model ears and noses with the wax, the large and intricate models from the museum were seen in a whole new light, as the skill necessary to produce them had become more evident.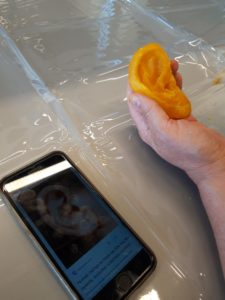 Participants experienced the trials and tribulations of working with wax to create
a life-like image of an ear
---
Tuesday June 4th
The second day brought a whole different focus on senses to the fore. The day started with the workshop of dr. Paul Craddock, who discussed his experience with using film in and for his research, documenting ephemerality and knowledge that is substantiated through embodied practice. Dr. Craddock showed some examples of his broad work on numerous subjects: ranging from the transcription of DNA to RNA, to the practices of employees in a brick factory. Each clip showed a different relationship between knowledge and embodied processes, which were discussed at length with the workshop participants. After looking at the films, the participants broke off into groups to discuss how they could use film as a medium to present their work.
During the workshop by dr. Craddock participants discussed the potential of film as a way of transmitting different types of experience and knowledge in ways that writing can not
Dr. Craddock's workshop was followed by a session by Caro Verbeek about the sense of smell: "Documenting the (lower) intimate senses". Caro Verbeek gave an interactive presentation about the position of smell historically in the hierarchy of the senses. Taking the participants on a journey past tactile poetry and examples of different kind of scents, the workshop demonstrated through embodied practices the complexity of smell and how it was used historically by especially the Dadaist and Surrealist artists.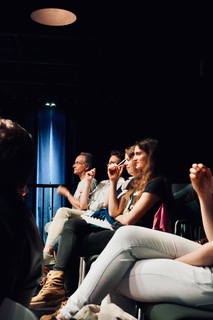 Participants got to experience just how intimate smell can be with the scents that Caro Verbeek provided during her workshop
The next workshop shifted the attention from scent to movement, as PhD candidate Anne van Veen discussed her work and experiments in the third workshop called "Choreography in knowledge". Moving away from the more common human-centered history of the use of test-animals, Anne gave the participants a rare glimpse into the life of test-animals and how they and their keepers inhabit space and embody knowledge. Central to Anne's research is the concept of choreography which she explained during her talk and which she uses as a way of exploring this history, employing it as an analytical tool, a research method and as a way of documenting knowledge. The final presentation on Tuesday was by dr. Kaisu Koski who discussed her projects concerning medical education. Practicing as a prolific researcher and artist, dr. Koski's work explores the different practices of medical education. Her current interest is the sensibility of the other in this education: the patient. Using video as a medium and a subject, dr. Koski explores its use in medical education, for example in the practicing of "bad-news dialogues". In another project, Dr. Koski interviewed vaccine-hesitant parents extensively and created a film about their objections, which can help medical students have a more productive dialogue about vaccines with doubtful parents.
---
Wednesday June 5th
The program on Wednesday focused on yet another set of senses. The day started off with the workshop by Valentijn Byvanck, director of Marres House of Contemporary Culture in Maastricht. Marres aims to be a neutral space of seeing things, be it artworks, food, patients or music, offering a frameless canvas for all kinds of activities. Consequently, it has been home to a number of experimental projects, such as an exhibition that attempted to alleviate seasonal affective disorder or a program where medical students developed their skills through sensory education. After the presentation of the many faces of Marres, the participants of the workshop got to practice with one of Valentijn's examples, which was the creation of a map of one's own discipline, resulting in some very engaging representations of different practices and fields. Dr. Jur Koksma from Radboud University Nijmegen, the next speaker, specializes in Transformational Learning. Dr. Koksma workshop focussed on a learning track that he developed from 2014 onwards at the Radboudmc which combines arts and medical education.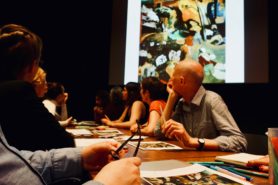 How do you explain an image to someone who can't see it? Dr. Koksma's assignment demonstrated how hard it can be to transmit information with limited use of the senses
During a "transformative road trip", medical students spend their free Saturdays visiting a number of artist studios and exhibitions, getting closely acquainted with art and artistic production. This approach allows students to reflect on their relationship with patients and on how their interactions can be meaningful, in a very different way than the regular medical curriculum. The artists that have featured in the program were inter alia Hans Aarsman, Ruth van Beek and Roy Villevoye, artists who have strong individual approaches to looking, experiencing and understand the relationship between art and reality. Each visit also comprised a practical component, such as life drawing or working with photo collages. The program has proved to be extremely beneficial to the participants, as students signaled that it has led them to reflect more deeply on their own practices and made them regard their interactions with their patients in a more meaningful way. 
The themes of the past three days were bought together in the final session on Wednesday afternoon: the workshop of Roger and Dusia Kneebone. Roger Kneebone trained as a surgeon, became a general practitioner and later in life decided to devote himself to research. Dusia Kneebone trained as a geologist and afterward decided to attain a Masters Degree in Art History and is currently practicing as an artist.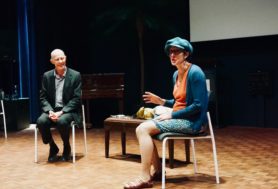 The dialogue between dr. Roger Kneebone and Dusia Kneebone
During their joint session, they drew from several years of experience in bringing together clinicians, scientists, artists, and performers through discussing and experiencing "the way they do things" in their profession. Through the idea of embodied skills, they connect people and facilitate learning experiences, often based on similarities that – at first glance – seem highly unlikely: what can a stonemason learn from an orthopedic surgeon? What types of knowledge do a scholar, surgeon, fisherman, artist, and puppeteer can possibly have in common? What similarities can be found between the practice of the tailor and the trauma surgeon? By showing an astounding number of interactions that they facilitated throughout the years, Roger and Dusia showed how similar or even the same embodied knowledge can crop up in very different places, and that the interaction between people working with that knowledge can be immensely valuable. After illustrating these encounters with some interesting clips and explaining how these can figure in medical training and practice, there was a dialogue between Roger and Dusia where the participants had the chance to join in. As it turned out, her varied background has also helped a lot in seeing the crossovers between different practices for Dusia. To her, as a geologist and an art historian, close looking connects the two practices. Yet while some embodied skills might work well in one setting, when transferred to another setting might prove much more challenging to employ. Roger gave the example of sewing as a surgeon and in a tailor's workshop, which didn't quite yield the results he was expecting. Dusia had a similar experience – after years of working with fabrics and other materials in sewing, she was interested in a hat-making course, but swiftly found out that all her previous (embodied) knowledge didn't quite act in the same way in this new setting.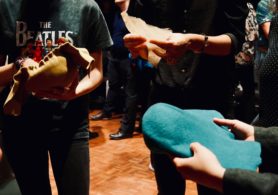 Dusia Kneebone's hat-making materials drew a lot of curious hands during the break of the dialogue
In the dialogue with the audience, people were mostly interested in the application of these cross-over practices for medical education and the application of embodied knowledge in new areas. It became clear that the main issue here would be the conscious application and training of students and staff for this to be utilized productively, but that – when applied with the right caution – cross-overs like these can offer new ways of developing and exchanging knowledge with valuable outcomes.
---
Thursday June 6th
Thursday was the final day of the workshop and it took place at University Medical Centre Utrecht. The first session of the day was presented by Dr. Anna Harris: "From Critical Thinking to Critical Making". Dr. Harris' research takes an anthropological approach to studying medical education, investigating how medical students learn and are taught different practices and types of knowledge, and which objects, settings and practices are used to do so. As part of her research, Dr. Harris also organizes workshops for staff and medical students in which she explores these processes of learning and teaching with them. The second part of the session was such a workshop, and participants were asked to develop a teaching tool that could be used to explain some part of the human body or teach a sensory experience that relates to understanding it.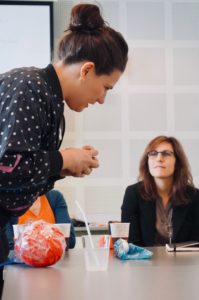 A participant discusses how she experiences a tool to help understand Crohn's disease 
Enthusiastically, the participants committed to the task and produced a fascinating variety of tools, such as a tool to explain the experiencing of Crohn's disease, a tool to explore different types of deformations beneath the skin, a set of orbs to practice sensory descriptions, and a visual explanation of different anatomical complications one could encounter when resecting a gallbladder. This was quickly demonstrated to the participants how valuable a new way of looking and thinking can be when trying to explain sensory knowledge to students and how even the most modest crafts materials can be suitable. It also bought home the point of the session about the different types of learning processes and the practices that relate to it. 
After the workshop session by dr. Anna Harris, Anne van Veen and dr. Kaisu Koski collaborated to make a short film called "Clinical Crafts", using the tools developed in the workshop: 
"Clinical Crafts" is initiated by artist-researchers Anne van Veen and Kaisu Koski, as a result of a UMake-facilitated workshop "From Critical Thinking to Critical Making: Craft and Everyday Design in Medical Education" by Anna Harris. With their instructional films and objects Anne and Kaisu explore various cruelty-free materials and performativity in surgical education. The collaboration merges their interest in surgical skills, ASMR and arts-based methods in clinical education.
After lunch, the final part of the Art & Medicine Workshop had arrived: the public dialogue with Roger Kneebone and Margriet van der Schaaf, followed by a small pilot workshop for a summer school course on Co-design of arts-based medical education. As this part of the workshop was set at the Medical Centre, it was easier for medical staff and students to join in this part of the workshop, leading to quite a different mix of people. The dialogue between Dr. Kneebone and Dr. Van der Schaaf focused on the role of embodied expertise and how it relates to learning, aptly demonstrated at the beginning of the talk by the example of juggling. Not only does the environment matter when you are doing something that you've learned – such as juggling, but also operating, sewing, or looking at a sonogram – your body also has a certain that impacts the way that you perform that act. Awareness of this fact is valuable because it allows for a conscious way of mediating these factors.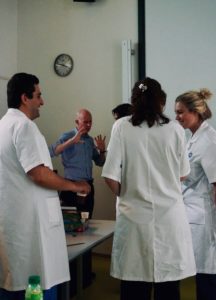 Dr. Kneebone in conversation with some of the attending medical staff and students
In the pilot of the workshop, the final part of the program, dr. Kneebone showed some part of the presentation from the day before about craft and medical knowledge, this time adding a more specific medical perspective. In addition, Dr. Kneebone explored the history of medicine more and the way the progress of medicine affects the development and transmission of embodied knowledge. Two examples in which this process has been complicated over the years were the development of robot-assisted surgery and the advent of keyhole surgery. Overall, this part of the workshop facilitated a fruitful discussion about the role of technology in medical knowledge, the role of safety and failure in medical practice and role of embodied knowledge in this setting, as well as the development of expertise through time and how previous knowledge sometimes can be quite valuable to retain in some way or other.
Report and photography by: Anne van Dam, MA and Anne van Veen, MSc