Art & Medicine
Workshop Art & Medicine: Skilling the Senses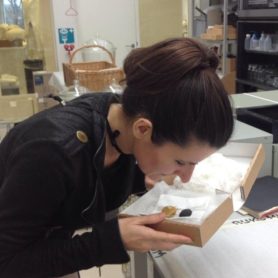 By invitation only – if you are affiliated with UU, HKU or UMCU, either as student or staff, and would like to participate in this workshop, please contact Sven Dupré (s.g.m.dupre@uu.nl).
The aim of this workshop is to investigate the role of senses in the transmission of knowledge as well as to develop a pilot art track in the medical curriculum. This workshop will create an environment to do and think learning in interdisciplinary settings. More specifically, we have three questions which will structure the workshop days:
(1) What is the role of sensory skills in the transmission of knowledge?
(2) Given the ephemerality of skills, sensory knowledge, tactility, scent and motion, how do we capture or document it? And how can or should we do this with an eye towards its re-use as a media technology in educational settings?
(3) In what ways can or should we develop a medical curriculum in which the making of art plays a substantial role? in what ways can we shape this exchange between the arts and medicine so that it is also beneficial to the arts?
Roger Kneebone, Professor of Surgical Education and Engagement Science at Imperial College London, will take part in this by-invitation-only workshop and, together with the art historian and artist Dusia Kneebone, will deliver the public lecture on Wednesday June 5.
---
Monday – 3 June (afternoon)
Location: Anatomical Museum Bleulandinum (14-15u) & Kunstlab
Sensory Skills in the Transmission of Knowledge
____________________________________________________________________________________________________________
 13:00 – 13:30: Introduction by Sven Dupré (UU) and Maaike Bleeker (UU)
 13:30 – 14:00: Embodied and Object-Based Learning in Medical and Health Humanities
 Manon Parry (VU University of Amsterdam)
How can we get students to cross their disciplinary boundaries and to engage all their senses? Our students learn to sit, read, listen and write, but do little with the other senses as 'avenues of knowledge'. The speaker is currently redeveloping the MA "Medical History" track into a new track "Medical and Health Humanities," open to students enrolled in Health Sciences, Medicine, Pharmacy, Social Sciences or History. This diversity of backgrounds creates challenges in the classroom, with incoming students previously socialized to understand and value very different disciplinary tools and approaches in their "home" disciplines. The students find it hard to evaluate knowledge produced by unfamiliar methods, and are often unable to synthesize competing or complementary approaches within their existing frameworks of understanding. This presentation explores strategies in development to employ the methods of embodied learning and object-based learning in the new curriculum. The aim is to recreate the classroom as a 'multi-sensory collaboratory' in which students, teachers, and partners from health care organizations, cultural institutions, and creative industries will together engage with all their senses.
Manon S. Parry, PhD, is an exhibition curator and historian of medicine. She is currently Professor of Medical History at the VU-University, Amsterdam, and Senior Lecturer in American Studies and Public History at the University of Amsterdam. Formerly, she was Curator in the History of Medicine Division of the National Library of Medicine, USA, where she curated gallery and online exhibitions on a wide range of topics, including global health and human rights, disability in the American Civil War, and medicinal and recreational drug use. Traveling versions of her exhibitions have visited more than 300 venues in Argentina, Canada, Germany, Guam, the Netherlands, Turkey, the United Kingdom, and the United States. She describes herself as a "public historian of medicine," and is currently writing a book on the social relevance of European medical museums.
 14:00 – 17:00: Making Bodies, Understanding Bodies: Wax Models, Moulages, and Medicine
Marieke Hendriksen (Utrecht University)
Wax models and moulages played an important role in medical research and teaching from the eighteenth until the first half of the twentieth century, and have been making a comeback recently. Why was and is wax such an incredibly successful material for medical models? What is the role of sensory skills in the transmission of wax modelling knowledge? How was knowledge about wax modelling traditionally captured, documented, and transmitted? Should wax modelling have a place in the current medical curriculum? To explore these questions, we first visit the Museum Bleulandinum to study the wax models made by self-taught wax modeler Petrus Koning (1787-1834) for Utrecht professor of anatomy Jan Bleuland (1756-1838). After a short introductory talk on the history of medical wax modelling practices, we will experiment with wax modelling ourselves.
Marieke Hendriksen is a historian of science and medicine, specialized in the material culture of eighteenth-century medicine and chemistry. She received her PhD from Leiden University in 2012 and has held fellowships at the National Maritime Museum in London, Groningen University, and the Max Planck Institute for the History of Science in Berlin. The topics of her publications range from historical anatomical collections and medicine chests to anatomical preparation methods and the production of coloured glass. At Utrecht University she works as a postdoctoral researcher within the ERC-funded project Artechne. The project studies how technique was taught and learned in art and science between 1500 and 1950.
Website: https://mariekehendriksen.nl/  
---
Tuesday – 4 June
Location: Studio MCW
Documenting Ephemeral Knowledge
____________________________________________________________________________________________________________
10:00 – 12:00: Adding Film to Our Repertoire of Literacy
Paul Craddock (UCL Medical School, London)
In academic contexts, film is often considered an engagement tool, maybe for documenting the legacy of a project, extending its reach, or meeting a managerial or recruitment agenda. Part of my work explores the capacity of film in research, as a way to capture, arrange, reflect on, and interpret materials. In this workshop, I want to explore the possibility of adding film to our repertoires of literacy, particularly when engaging with material objects and embodied practices. We will do this by watching and listening to short film clips, developing an interpretation of the film as text. Why have certain editorial decisions been made? What does the video communicate that would be otherwise difficult to put into words? To explore the strengths and limitations of film, we will also attempt to translate short film clips into writing and other media with which participants are comfortable.
Paul Craddock is a cultural historian interested in how medicine and medical practices influence the way we make sense of ourselves and our bodies. His PhD explored how transplants have for centuries invited reflection on human identity, also the subject of his first book to be published by Penguin in 2020. He is also currently Research Film Maker on the V&A Research Institute's Encounters on the Shop Floor project, highlighting the role of embodied knowledge in medical and creative craft, industry, and education. As a film maker for research and cultural institutions, Paul is currently working with Imperial College, London, Maastricht University, and the College of Physicians of Philadelphia. His film work has been featured in Nature, the Frankfurt Book Fair, and MoMA. Paul holds an honorary appointment Senior Research Associate in the Division of Surgery and Interventional Sciences at UCL Medical School in London.
13:00 – 14:00: Documenting the Lower Senses
Caro Verbeek (VU Amsterdam)
Smell and touch are often overlooked or even deliberately excluded as serious historical methodological tools, because olfactory and tactile impressions (often) simply disappear. To make things worse smells and haptic experiences can hardly be described because of a lack of vocabulary and there don't seem to be any devices to capture and (re)present them to a larger audience. This makes documenting scents and touch impressions particularly challenging. During this workshop-like lecture Caro Verbeek will demonstrate – on a textual and sensory level – how to document and (re-)construct tactile and olfactory objects and events, and how to use the nose as a diagnostic tool, based on her own practices as a sensory (art) historian. Three case studies will serve as points of departure:
F.T. Marinetti and Benedetta Cappa, 'Sudan-Parigi', 1921, a (re-)construction of a tactile poem
Identifying the contents of an 18th century Apothecary Cabinet (collection Rijksmuseum)
The Smell of 'the Battle of Waterloo', created for the Rijksmuseum by Caro Verbeek and IFF
Caro Verbeek is an art historian, curator and researcher specialized in the senses of smell and touch. Since 2010 she teaches the preliminary course 'The Other Senses' at the Royal Academy of Arts (The Hague) and designs olfactory tours and sensory workshops for museums and other institutions. Her books and articles include "Inhaling Memories" (Senses & Society, 2013) and "Something in the Air – Scent in Art" (Villa Rot, 2015). She is currently working on her PhD on art historical smells at Vrije Universiteit Amsterdam, with IFF (International Flavours & Fragrances) and the Rijksmuseum, Amsterdam. Since 2015 she curates the monthly scent culture program in the Netherlands at Mediamatic (Amsterdam) called 'Odorama'.
14:30 – 15:30: Laboratory Practices as Choreographies
Anne van Veen (Utrecht University)
While laboratory work has become highly standardized, everyone who has ever worked in or observed a laboratory, knows the reality of daily practice is much more messy and situated than what is described in standardized protocols. Many aspects of laboratory practices are non-verbal and these aspects generally remain elusive to articulation. In this workshop we explore the usefulness of choreography, both as an analytical concept and as a creative practice research method for gaining insights into these elusive aspects. We also consider how these can be communicated about to others.
Anne van Veen is a PhD candidate at the History and Philosophy of Science department of the Freudenthal Institute (Utrecht University), where she studies histories of animal testing and alternatives. She also has a background as a dancer and choreographer. As part of this research, she experiments with choreography to see if this can be useful both as a research method and as a way of communicating research results. Website: annevanveen.com
16:00 – 17:00: Art of Medical Education
Kaisu Koski (Tampere University)
This presentation discusses ways of exploring medical education through art, as well as arts-based means in expanding medical students' skills. Artist-researcher Kaisu Koski will share examples and findings of her past and current projects on medical education, employing various artistic media such as film, drawing, photography, performance and writing. She has worked with variety of medical topics such as anatomy, clinical skills and immunization in several medical schools internationally.
Kaisu Koski is an artist-researcher with background in media art and performance. She earned her doctoral degree with a dissertation "Augmenting Theatre" on interactive performances and installations in 2007 in the University of Lapland. Kaisu is an Adjunct Professor of Arts-based Research in Tampere University, Finland. She collaborates with scientists, clinicians and engineers, and currently carries out an Academy Research Fellow project developing films for medical curricula in Finland, Denmark and the U.S. She has conducted research fellowships in various medical schools, and published peer-reviewed articles about arts-based research, medical education and bioethics. Kaisu's work has been exhibited in platforms such as Künstlerhaus Mousonturm, Hasselt Triennial, and the Czong Institute for Contemporary Art in Korea, and received multiple official selections on the film festival circuit.
Website: www.kaisukoski.com
---
Wednesday – 5 June
Location: Studio MCW
Arts-based Learning in Medical Education
____________________________________________________________________________________________________________
10:00 – 11:00: Observing the Senses
Valentijn Byvanck (Marres, House for Contemporary Culture)
Marres is a house for contemporary culture in Maastricht that explores a diverse range of artistic practices. In recent years, it has developed an extensive senses program, that encompasses immersive exhibitions, training sessions and peer education projects. As part of this program, we develop outreach programs, sometimes for specific social groups, at other times for exploring specific research questions. An example of the latter are a series of sessions we do annually with the medical school in Maastricht about sensory perception and medical observation. In this presentation, I wish to discuss ways in which artistic practices can be employed to create body awareness, develop sensitivity and improve observations skills.
Valentijn Byvanck is director of Marres, House for Contemporary Culture, Maastricht, the Netherlands. In Marres, he runs a program in which he explores the senses in a wide array of artistic practices and develops exhibitions including The Winter Anti Depression Show (2013), Levi van Veluw: The Relativity of Matter (2015), Ferran Adria: Notes on Creativity (2016) and The Painted Bird: Dreams and Nightmares of Europe (2017). Byvanck was subsequently director of the Zeeuws Museum (2002-2008) and the Museum of National History (2009-2011). Byvanck holds a PhD in cultural history from New York University.
11:30 – 13:00: Making Sense of the Other: What Arts May Do for Personalized Health Care
Jur Koksma (Radboud UMC)
In 2016 we started an innovative learning track in the Radboudumc that combines arts and medical education, and appraised the learning processes involved. For four years now the voluntary track is followed by 30+ participants, mostly interns and a few residents and patients. We invited participants to join artists in their studios, to allow students to have an immersive experience of a different discipline, rather than only observing its end products. The track did not have preset learning objectives. However, participants were encouraged to set their own, personal goals and to reflect on what they learned in terms of observation skills, creative thinking, personalized health care, and frame reflection. In this interactive lecture and workshop you will be given a chance to experience the special character of the track's learning environment. Also, Jur Koksma will highlight the most important outcomes of the learning research.
Jur Koksma studied philosophy and biology, and received his PhD in neuroscience from VU Amsterdam. He currently works at the Radboud UMC Health Academy, Radboud University Medical Centre (Radboud UMC). He does research in Transformative Learning, Vocational Education, Higher Education and Educational Leadership. He is also editor-in-chief of the dodo / nododo magazine "in the spirit of Lewis Carroll".
15:00 – 17:00: The Art of Performing Science
Roger Kneebone (Imperial College London) and Dusia Kneebone
 In this session Roger and Dusia Kneebone draw on a body of work over several years in which we have brought expert clinicians, scientists, artists and performers together to explore the wordless 'ways of doing' which characterise their work. By demonstrating selected aspects of their work to one another, participants share understandings that elude verbal description. After outlining the issues we will present examples of ongoing and future collaborative work carried out by colleagues in medicine and the arts. The session will then move to an interactive conversation based on Dusia's experience of moving from geology to art history and then hat-making, before concluding with a broader discussion with the audience. Please find a couple of recent papers which give some background HERE and HERE.
Roger L. Kneebone is Professor of Surgical Education and Engagement Science at the Imperial College London Wellcome Trust Engagement Fellow.
 Roger is a clinician and educationalist whose multidisciplinary research builds on his experience in surgery and general practice and his interests and expertise beyond medicine. He is passionate about engagement in bridging the worlds of clinical practice, biomedical science, patients and society. He leads the Imperial College Centre for Engagement and Simulation Science and the Royal College of Music-Imperial Centre for Performance Science and is Professor of Anatomy at the Royal Academy of Arts.
 Dusia Kneebone's career has ranged across science, art history and making. Following her undergraduate studies and an MSc in marine geology, Dusia spent several years researching the paleo-environment of coal deposition in the UK and overseas. After a career break to raise two daughters, Dusia changed direction and became an art historian. In her MA at Birkbeck, her research focused on a group of little-known paintings of a First World War field hospital on the Western Front by the French artist Victor Tardieu.
 Dusia and her husband Roger have collaborated for many years on the simulation-related engagement work which he has pioneered at Imperial College London, integrating perspectives from clinical practice, science, art, craft and performance. She participates in exploratory work with the Art Workers Guild, the V&A Museum and the City & Guilds of London Art School.
---
Thursday – 6 June
Location: UMCU
Developing a Pilot Art Workshop in Medical Education
____________________________________________________________________________________________________________
09:30 – 12:00: From Critical Thinking to Critical Making: Craft and Everyday Design in Medical Education
Anna Harris (Maastricht University)
The intense effort in instructional design in medical education has the potential to overlook the more mundane and yet incredibly rich practices of everyday design. Everyday design in medical schools is tinkering work involving adaption or making in creative acts of repurpose. Hardly a new practice in medicine – tinkerers and makers have often radically transformed the field with their inventions, take the stethoscope for example – these are skills however which can be lost as medical education strives for efficiency, standardisation and objectivity. In this practical workshop we will joyfully celebrate small acts of everyday design and the craftsmanship of training healthcare professionals. The workshop draws empirically from an ongoing anthropological and historical study of the role of technologies in training doctors' sensory skills of diagnosis. This study is one of the first collaborative and comparative social studies of medical training, with fieldwork already conducted by a team of anthropologists, science and technology studies scholars and historians in medical schools in Western Europe, Eastern Europe and West Africa. In these medical schools we have found, and been inspired by, everyday acts of making. In the workshop I will begin by sharing sensory images of, and stories about, teachers' materials and innovations. I will put these examples into a broader narrative about design and critical making, areas of scholarship and practice I suggest offer fresh new perspectives on how to approach medical teaching. I sill suggest that attending to everyday design is not only a creative and enlightening practice, but a necessary one, in order to train adaptive, creative healthcare professionals of the future. Then we will make, attending closely to materials that could be or are used (for the medical educators in the room) in teaching. It will be a workshop in further training our imaginations, to share and consider new creative possibilities for how to teach doctors sensory diagnostic skills for examining patients. We will use materials that I will bring in (though feel free to bring your own materials), your own bodies, pens, paper or anything else we come up with on the spot and that you feel comfortable and inspired to use.
Anna Harris pursues an approach to the social study of medicine that is grounded in ethnographic studies of contemporary medical practices, her clinical experience working in hospitals, and collaborations with historians, doctors, artists, museum specialists and craftspeople. Her research spans the fields of anthropology, science and technology studies, medical education and medical humanities and health sociology. Harris' empirical cases focus on the anthropology and history of technological medical practices, especially concerning questions of sensorality, embodiment and learning. She also writes about hospital infrastructures. From March 2016, she is an Assistant Professor in the Department of Technology and Society Studies (TSS), Faculty of Arts and Social Sciences, Maastricht University. Website: http://pneumaticpost.blogspot.com/  
13:15 – 14:15: Public Dialogue with Roger Kneebone (Imperial College London): Cross-boundary work between science, medicine and the visual and performing arts
14:30 – 17:00: Co-design of arts-based medical education workshop pilot for the summer school, organized by The New Utrecht School
The UMC Utrecht is currently an epicenter for robotics and minimal invasive surgery in Europe. These technological developments might have an effect on the technical skills of surgeons. Is this going to have an effect on the dextrous skills of surgeons?  Or do we need to focus on the development of other skills in the training of our future surgeons, corresponding with the technological developments?
If we need to keep the old skills, how are we going to preserve them? Are simulation-based re-enactment and simulation the right tools?
During this workshop Professor Kneebone discuss these aspects with ' generation next' doctors.